Match verdict by Hughie Southon
It's one of the ironies of football that whilst – beyond a couple of players – there were no outrageously bad performances the general level reached by the Hammers last night simply wasn't good enough.
And it seems on the basis of that  to be talking of a top four position is a crazily optimistic proposition.
For much of the game the south coast side were slicker, quicker and passed the ball with far more accuracy than we managed.
We can talk about the absence of Ogbonna and Cresswell until the cows come home but that would be a lame excuse.
The reality was that we nicked a very early lead and eventually decided to defend it for our lives – a recipe for disaster. That really is not the mark of a team with the lofty ambitions we have .
There were two players who contributed next to nothing – the hugely frustrating Benrahma and Mikey Antonio who is as out of form as any of us can probably remember.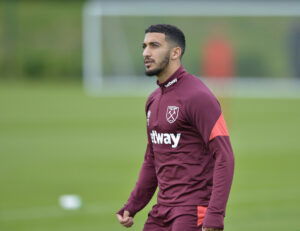 We can afford absolutely no passengers against Chelsea if we are to gain out first win in four and frankly both should be sacrificed.
Manu Lanzini was excellent when he arrived on the pitch and should replace the former Brentford player whilst I'd be tempted to play Bowen – missed chances I know – through the middle.
He reached more scoring positions and looked more likely to score than Antonio.
The team also need to step up the tempo of their game considerably. We are starting to look lethargic after so many games and new additions will certainly be needed in January.