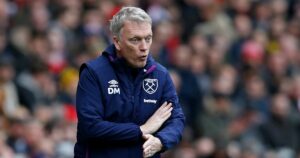 Today's the day when everything is likely to be put in place for the Restart …as far as it can be anyway.
Two big issues are likely to dominate the Premier League Chairmen's meeting , those being which relegation model is adopted and the number of subs to be used.
There was a brief word on the BBC this morning that David Moyes is opposed to the current proposal on subs so that will be an interesting one whilst most will probably favour a points per game option for relegation.
That appears to be the case with the Irons according to our sources – as reported last night but which way we will go on substitutes given Moyes' reported remarks remains to be seen.
Chelsea's Frank Lampard has been reported as wanting more subs which in our view will disfigure a season which started out with one set of rules and will finish with others even further.
We will be bringing news of the meeting as soon as it becomes available.