P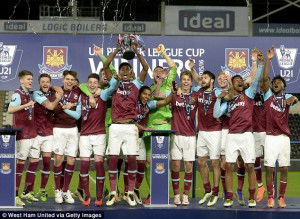 remier League 2 is a new competition that replaces the Under-21 Premier League from 2016/17, with a greater focus on a level of play in terms of technicality, physicality and intensity to bring players as close to first-team experience as possible.
The age limit for players has risen from Under-21 to Under-23. The league will take on the same format of two tiers, Division 1 and Division 2, with 12 teams in each, and the factor of promotion and relegation.
The 24 clubs who compete each applied for 'Category One' status in the Elite Player Performance Plan (EPPP). There are 15 clubs from the Premier League and nine clubs from the Championship.
All players born after 1 January 1993 for the 2016/17 season are eligible to play, and the format stays as follows:
There are 12 teams in Division 1 and 12 in Division 2, with every club playing each other once at home and once away
In Division 1, the team who finish first are champions
The bottom two teams in Division 1 get relegated to Division 2
In Division 2, the league winners get automatic promotion to Division 1
Teams ranked second, third, fourth and fifth go into a promotion play-off
Second plays fifth place at home and third hosts fourth in the semi-finals, both at the club's main stadium, while the final takes place at the home ground of the team who finished highest in the league
All play-off matches are one-off ties, decided by extra-time and then penalties if the match is level after 120 minutes
There is no relegation from Division two.
Other rules include:
Each team can field a goalkeeper over the age limit and up to three 'over-age' outfield players in every match
Each club must host at least three league matches at their main stadium during the course of the season, which helps to enhance the matchday experience for the players and fans.
Member clubs' training grounds or Academy venues will be permitted for the staging of up to three home matches over the course of the league season.2
Teams in Division 1
Arsenal, Chelsea, Derby County, Everton, Leicester City, Liverpool, Manchester City, Manchester United, Reading, Southampton, Sunderland, Tottenham Hotspur
Teams in Division 2
Aston Villa, Blackburn Rovers, Brighton & Hove Albion, Fulham, Middlesbrough, Newcastle United, Norwich City, Swansea City, Stoke City, West Bromwich Albion, West Ham United, Wolverhampton Wanderers