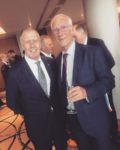 Top CandH blogger Allen Cummings (right) with a mate 🙂
I make no apology for lingering a little longer on the subject of our excellent victory yesterday afternoon. Every victory is sweet – no matter who the opposition might be.
But victory over certain teams always seem that little bit sweeter! Manchester United are one of those teams you just love to beat.
They are a team that's enjoyed success for so long there's an incredibly annoying arrogance about them, their former players and their supporters, who seem to think all they have to do is turn up and the points are theirs.
Well, they turned up at the London Stadium yesterday and were sent packing with nothing! While the occupants of the Sky Sports studio were pre-occupied with the demise of the Reds, thousands of us happy Hammers were more concerned with the rise of the Irons.
But amidst all the jubilant celebration on the pitch and in the stands, it may easily have been missed that this West Ham victory meant manager Manuel Pellegrini had created a very special piece of history all to himself.
Pelle had already earned himself a reputation of being something of a scourge of the Red Devils, having previously recorded league victories over three different United manager in David Moyes, Louis van Gaol and Jose Mourinho.
Yesterday's victory over Ole Gunnar Solskjaer's current team means that Manuel has become the first manager to beat four different Manchester United managers in the history of the Premier League.