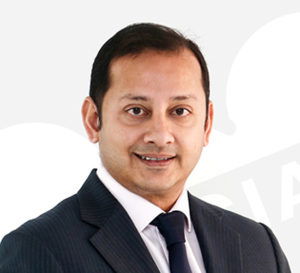 Valencia president Anil Murthy (right) has attempted to step up the pressure on Maxi Gomez as the on/off saga continued today (Tues).
Strong rumours that a deal could be announced later on this afternoon or evening seemed to go on hold again as Murthy made it clear to the striker that he only wanted "committed" players at the club.
He used newly signed Jasper Cillesson as an example after the former Barcelona keeper's decision to join the club last month.
Murthy said (quotes via AS): "We want players who are fully convinced of being in our project and who grow with us (…)
We want committed people like Cillessen, who wanted to be part of the Valencia family and since he learned of the interest, did not listen to other proposals."
He made his remarks as the Hammers – after meeting the buyout clause in Gomez's contract – went into discussions with Celta Vigo on the terms over which they could be paid.
That may be a stumbling block  – although it is unlikely – that Celta Vigo will demand that the fee it is all paid in one hit.
Alternatively they could decide the cash plus players Valencia deal is acceptable and leave Gomez to make up his mind on whether that will go ahead or decide on a move to east London!
Whether Murthy's statement on the scenario will prove helpful remains to be seen and it could well be that the striker could become irritated at the extra pressure being placed on him whilst Vigo and the Irons are trying to come to an agreement.