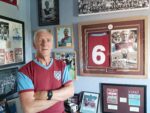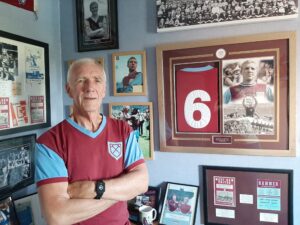 By CandH's top blogger Allen Cummings
Let's just savour the moment for a little while longer. Let's all just sit down quietly to take stock of what David Moyes and his team have just done!
From a position of almost total despair, just two games and two defeats into Project Restart, Moyes has skilfully guided his team to safety – with one game to spare. In fact safety was all but assured with two games to spare, following the comprehensive victory over Watford.
But the point taken on the road at Old Trafford dotted the I's and crossed the t's and put the icing firmly on the cake.
David Moyes has taken a team seemingly in disarray – courtesy of possibly the most expensive mistake in our club's history, the catastrophic appointment of Manuel Pellegrini – and  has fashioned a new team that is now full of confidence, full of belief and actually look as if they have rediscovered the joy of playing football again.
Moyes and his players deserve to enjoy the moment – just as we all are right now – they've earned it. But the manager will know there is further work to do if he is to build on the platform he has now given himself, and our club.
He's already being told he needs to invest – to find additions to, or replacements for, older and longer serving players at the club. It's nothing he doesn't know himself already. But there has to be a sense of reality from us fans.
Football is a whole new ball game (pun intended) to what it was prior to Covid. Such is the financial damage inflicted on clubs, money simply won't be available as it was before, certainly not for clubs outside the big six. West Ham, and other teams like us, are likely to have to operate on much tighter budgets in the near future.
Anyone calling for our board to splash the cash, as if nothing has changed, are living in a different universe to the rest of us. Besides we've seen the evidence of making 'marque' signings – it's hardly been a roaring success.
The introduction of Tomas Soucek and Jarrod Bowen has shown what can be done. They, and players like them, are the way forward for us. There are bound to be those who disagree – there always are at this club.
They will trot out the old claim we're shopping in the bargain basement again– penny-pinching as usual. The noisy minority are always keen to have their say. Let them – it's what makes them happy. I have every confidence David Moyes will do what's right for this club – and he'll do it without their help.
Right now though most right-minded West Ham supporters will be happy to bask just a little longer in the satisfaction of a job well done. Let's afford ourselves a little more gloating time for goodness sake.
Let's enjoy the moment and watch fans of Aston Villa, Watford and Bournemouth squirm just a little longer – and be thankful to Moyes and the boys for ensuring that it's not us!