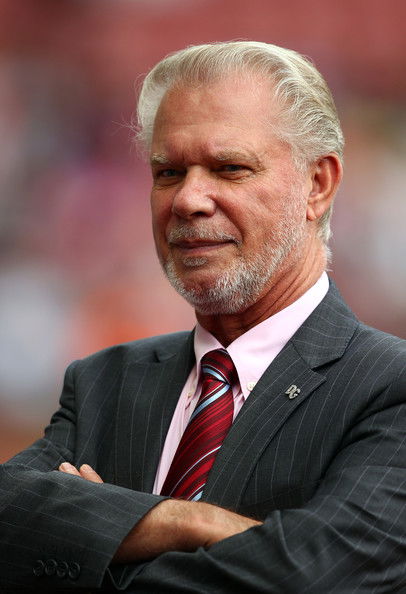 West Ham Joint Chairman David Gold has made no secret he is a big admirer of David Moyes and was instrumental in getting him appointed the first time round, he also pushed for his re-appointment when things went wrong with Manuel Pellegrini.
On his first appointment on a six month contract Gold told Sky Sports News "I think it's perfect for him and perfect for us. So I'm optimistic for the future, I'm pleased, I think we've got the best man that's available at this time and
I'm sure he's going to take us forward. You were talking about his experience, that's what we need. He came from Preston, he was very successful at Preston and he was very successful at Everton, and we think he's the right man for the job."
In January 2020 David Gold told Talksport in an interview
"I really liked working with David Moyes first time around. In different circumstances, it was only that unique opportunity to bring in somebody of that stature [Manuel Pellegrini] that precluded us from keeping David.
"Don't forget, David had a six month contract until the end of the season and he fulfilled that.
"It's not like we sacked him, we didn't sack David Moyes.
"But personally, and certainly with hindsight, I would have liked to have kept him."
On re-joining West Ham in January  David Moyes promised to give West Ham United "no choice" but to extend his 18-month contract after returning for a second spell as manager.
Asked after returning to succeed Manuel Pellegrini if there were any hard feelings, Moyes said: "No, because things were done correctly – I wasn't taken on and I was told that. I was disappointed, I've said that, but I've got another chance to go again.
I think it says a lot about the owners, they thought the job I did was good enough to give me another opportunity. This time I'm going to make it so there's no choice but to renew. There's a clause in there and I'm going to make it impossible to ignore that, that's my plan."
ClaretandHughsays: Retrospect is a word that says everything and nothing but there has never been any question that whilst David Moyes got a bum deal to be told: "Thanks but you are on your way"  not too many were complaining. However, there were some who genuinely believed he should have been kept on although by and large most seemed  excited at the prospect of Manchester City's former boss arriving and being handed – in West Ham terms – the crock of gold at the end of a claret and blue  rainbow. That went to prove that spending multi millions doesn't necessarily buy success. Somebody once said: "Any fool can spend money but what matters is what you buy." By comparison Moysie has spent very little and shown he knows exactly what he's doing. Where might we have been had he remained in the job? Who knows but the future is looking a lot more exciting under him than it ever did Pellegrini.