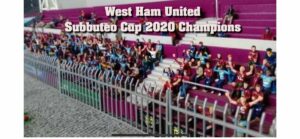 For the last month over 50 Subbuteo players have been flicking their way through the Subbuteo Cup of 2020.
The organisers say the tournament was a good way to pass the time during lockdown and it featured sixty-four real football teams. They were drawn randomly and Subbuteo players from around the world completed the games either playing solo or against housemates.
There were thrills, spills and plenty of laughs along the way to leave the two final teams of West Ham and Burnley.
Subbuteo.Online live-streamed the final of the Subbuteo Cup 2020 thanks to the final player, Chris Burford. He runs the superb Subbuteo Revival Group on Facebook and not only has the best man cave in the world but it also an accomplished and impartial solo player.
The final match took place at 6 pm last Wednesday with West Ham coming out the 3-1 victors and crowned the winners of the Subbuteo Cup 2020!
Watch the final below: