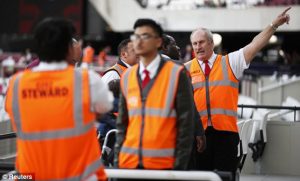 A West Ham supporter has received a three-year banning court order for assaulting three stewards at the London Stadium during the home game against Norwich at the end of August.
The fan pleaded guilty to the offence deciding not to contest a football banning court
Announcing the news West Ham designated Police officer Andy Sheldon said: "Today a police officer attended court with a male who had previously pleaded guilty to assaulting three stewards at the West Ham v Norwich game earlier this season, he changed his mind about contesting the Football banning order and the judge decided it was worthy of issuing a 3-year ban as well as nearly £1,000 costs fines and compensation. Stewards are there to help and not be assaulted or abused."
It is the norm for court banning orders to have a condition precluding the person from attending any football matches either at home or abroad for the duration of the Order. Further conditions often include surrendering your passport to a Police station any time England plays abroad.
In addition to the banning order from the court, the supporter will automatically receive a life stadium ban from the club and the stadium management company.