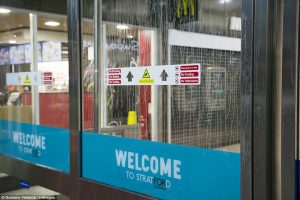 A 15-year-old boy has been arrested on suspicion of causing grievous bodily harm in connection to the attack which saw six people injured, including two West Ham fans, when they were sprayed with acid near the Stratford Shopping Centre just before 8pm on Saturday.
Witnesses of the horrifying crime described how a gang of men sprayed noxious liquid into crowds outside the centre and at a next-door tube station causing widespread panic.  Dramatic video and images shared on social media show police treating victims behind a cordon at Stratford station where a white substance can be seen on the floor.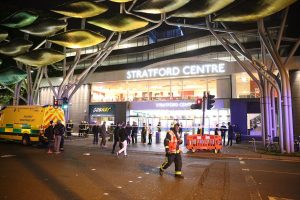 Witnesses described the panic in the moments after the mass attack as injured people hurried to wash their faces and limbs with water.
Police have ruled out terrorism. Witnesses claimed the substance was thrown by 'young black teenage males' after an argument broke out. Three of the victims, including one West Ham football fan were rushed to hospital after they were sprayed with the liquid following an 'altercation' between the two groups of males.
Scotland Yard confirmed none of the injuries were either life-changing or life-threatening.