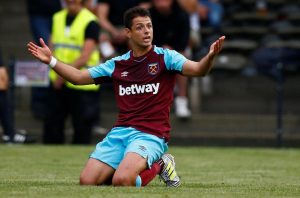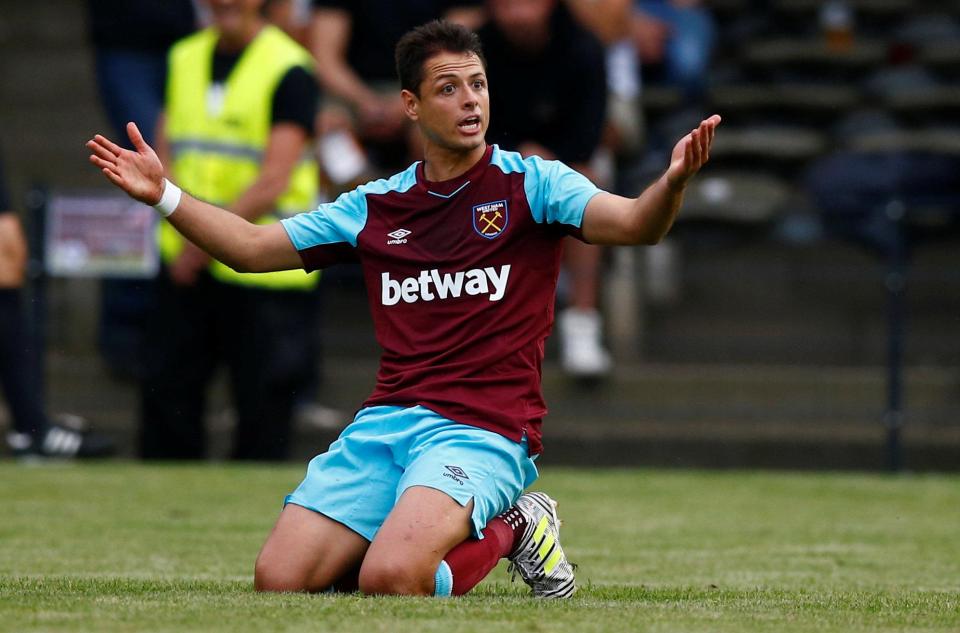 By Mick Brown
Of all West Ham's intriguing summer signings the one that really got the pulses racing was that of Javier Hernandez.
Mexico's all-time leading scorer had been a revelation at Man Utd and held one of the Premier League's all-time best goals per minutes ratios, and in the mix with Thierry Henry, Sergio Aguero and Ruud van Nistelrooy.
He had continued banging in goals with great regularity at Bayer Leverkusen, and Hammers fans finally had a deadly striker to cheer. Chicharito has already bagged three goals, but can be play alongside another of West Ham's strikers?
West Ham have had a superb centre forward at their disposal for several years now. The only problem is that Andy Carroll hardly ever plays due to one of the worst injury records in the business. So the arrival of Chicharito and that of Marko Arnautovic gave fans cause for optimism as the squad was seriously bolster in attacking areas.
Arnautovic was sent off in his second game for the Hammers and has only just returned in the league, so it is too early to judge him. But the issue of Hernandez seems more problematic.
This week Slaven Bilic admitted that it is "almost impossible" to pair the Mexican with Carroll in a strike partnership. That might seem strange, as little and large duos have enjoyed great success throughout history: Peter Crouch and Jermain Defoe, Niall Quinn and Kevin Phillips, Stan Collymore and Robbie Fowler, the list goes on and on.
But Bilic said: "I think about playing two up front the most, but it's very hard to put them as their ideal positions as two strikers. It looks good on paper, it's easy to do, but then it's very hard to have three at the back. It's almost impossible."
Bilic is saying he does not want to sacrifice a midfielder and being overrun in the middle of the park, so the only way he can operate Hernandez and Carroll in tandem is by losing a defender – something he is loathe to do. That leaves him having to shunt either Hernandez or Carroll out to the wing, and there is no way that Carroll could be a winger.
Thus Hernandez has been played out of position for much of the season. "You want to have a lot of them on the pitch at the same time," Bilic said. "Of course I'm thinking about that. Chicharito is playing in a position which is not his position. I spoke with him, he's a great lad, he's doing a job, of course."
It is hard to imagine Hernandez being happy with the situation though. He is an out and out striker, a goal poacher who does his best work in the box. Playing him out wide is about as pointless as playing Carroll out wide or Joe Hart in midfield.
They could play as a partnership as two up front is not dead: Jamie Vardy and Shinji Okazaki did it in Leicester's title-winning season, Wayne Rooney and Robin van Persie did it as Man Utd won the league in Sir Alex Ferguson's final season and Sergio Aguero and Gabriel Jesus are doing it to deadly effect for title favourites Man City this campaign.
But if Bilic insists he will not play like this, it means one will have to drop to the bench and it is a tough call. Carroll's influence is efffective  and it is so hard to leave him out when he is fit. Of course, he will probably be out for a lengthy period of time soon, so Chicharito can get back to leading the line, and he will probably start scoring goals.
West Ham are now 1/6 to stay up. BetOnline, a bookmaker with strong reviews, predicts they will enjoy success over the next few weeks as they have a kinder run of fixtures now the Spurs game is out of the way.
The Hammers face Swansea, Burnley, Brighton and Crystal Palace and are favourites for most of them, so there will be plenty of chances for Hernandez to prove his worth if he is used correctly.