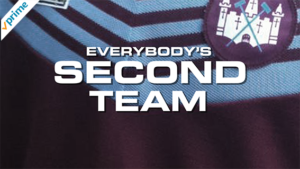 In response to the postponement of Premier League Football, a friend of  Claret and Hugh, Canning Town Len has decided that his film 'Everybody's Second Team' will be available 'free with Amazon Prime' for the duration of the football hiatus.
Len hopes those in self-isolation or without football can enjoy his West Ham film for free over the coming days.
Len had intended to produce a limited edition DVD that the ex-players could sell at events, this spring, but with the football currently uncertain,  he believes that it is a good time to introduce more fans to content on-demand.
Those without a Prime Video subscription, can 'pay what they like' at westhamfilm.com and not miss out.
Len adds that once he completed the film before Christmas last year, it became clear that so many more people would have liked to have been involved. He says he could have done things a bit differently to make this happen, so it's a good time to start a new project.
There was some TV interest which eventually emerged, but the timing became impossible. He says he has learnt a few lessons and is looking forward to making better West Ham stuff for a bigger audience.
https://www.amazon.co.uk/gp/video/detail/B081HX1ZPV/ref=atv_dp_share_cu_r