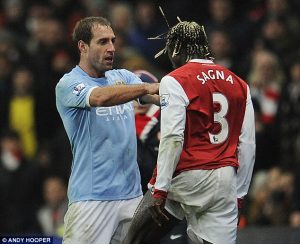 West Ham will move for Pablo Zabaleta and Bacary Sagna if Manchester City fail to offer one or both new deals claims the Daily Mirror.
Both defenders are out of contract in the summer and the reports says the Hammers have been alerted to the potential availability of the duo as their contract negotiations at the Etihad have hit the buffers. Both players are the wrong side of thirty. City boss Pep Guardiola has challenged the pair to prove themselves flexible enough to warrant fresh deals. But so far there has been little movement.
The fact they are available on free transfers would enable West Ham to get offer better wage deals then they would normally offer.
Thirty two year old Zabaleta is thought to earn £90,000 per week at City while his thirty four year old team mate Sagna is said to earn £80,000 per week. Their combined £170,000 per week for the two ageing defenders with a combined age of sixty six but be prove to be too rich for the Hammers with fans hoping we will invest younger versions of the talented defenders.