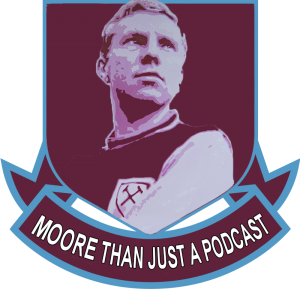 West Ham podcast MooreThanJustAPodcast returns this weekend with new technology, an extended lineup and a modified format.
Claret And Hugh Associate Editor Sean Whetstone will join George and John Bucci for the sixth season of the Hammers podcast along side new addition Nigel Kahn who will now become a regular presenter.
We will be recording the first episode of the new season on Monday but have already pre-recorded a comprehensive one-hour interview with joint Chairman David Gold a day before the season started.
The interview which will be published in two parts talks about Gold's personal part in the transfer policy and decisions, whether he has any regrets about the move to the London Stadium, what he defines as the next level for West Ham before he discusses his tweets about West Ham teenagers chance of making a breakthrough at length.
On the fiance side, he discusses his ownership of the club and why he is unlikely to sell and comments on his succession plan for the future. He also openly discusses the shareholder loan interest he receives on money he has loaned to the club before giving his personal predictions for the West Ham season ahead for the league position and a cup run.
You can find MooreThanJustAPodcast HERE with the new episode likely to be published on Monday.