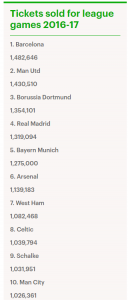 West Ham have been ranked seventh in European football for the number of tickets sold last season.
A Daily Mail feature says For the first time in football history, more than 10 clubs across Europe sold at least one million tickets each for league games in the same season, and five of the 11 who achieved it were from the Premier League in 2016-17.
West Ham stormed into that elite group in seventh place as they took up residence at the London Stadium and sold 1,082,468 tickets last season.
Barcelona sold most tickets for their league games, or almost 1.49m at an average of more than 78,000 per La Liga game and was following in total aggregate sales by Manchester United (1.43m or 75,290 per game).
Of the best 10 attended divisions across Europe – at all levels, not just top divisions – three of them were in England last season. The Premier League was at No1 in total ticket sales (13,607,420) with the Championship at No3 (11,086,368), beaten only by the Bundesliga at No2 (12,703,896). England's third-tier League One (4,373,496) is No9 on the list, selling more tickets last season than the top divisions of most European nations, the 'Big 5' and the Netherlands aside.
Read more: http://www.dailymail.co.uk/sport/football/article-5276435/Barcelona-sold-league-tickets-season.html#ixzz54SkSqKAY