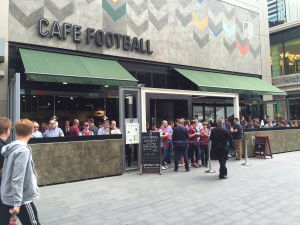 Pre match kick off
The London Stadium opens two hours before the 1pm kick off today for this event so the doors will open at 11am today. Doors will usually open 90 minutes before kick off for all other Premier League games.
The opening ceremony is scheduled 12.30pm today to mark the official opening of West Ham's new stadium.
Pubs that accept West Ham fans which I have verified myself include The Langthorne, Ye Olde Black Bull, and the Queens Head in Stratford high street close to the station but the Cow and Cafe Football in Westfield will also serve Hammers but these will be busy if Thursday is anything to go by.
Access to Westfield shopping centre before, during and after the game is allowed. We published this FAQ on Westfield earlier this week that tells you everything you need to know. The shopping centre is open between 12pm and 6pm today as it is a Sunday.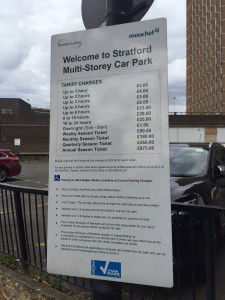 Parking
Westfield charges £9.50 over 3 hours at the weekend and has 4,500 places.
Stratford multi story car park on top of the old Stratford shopping centre opposite the station has 430 places, they also have a bar on the roof top. They charge £2 per hour so £8 for up to four hours but it does increase to £15 if you stay over four hours and £20 over six hours.  For evening games they charge £1 over night after 7pm.
Food
There is a better choice of food in the trucks around the outside perimeter of the London Stadium including pizza, hog roast, pick and mix to name but a few. Inside the stadium it is pies, hot dogs, burgers, street food (pulled turkey rolls on Thursday), popcorn, ice cream and sweets.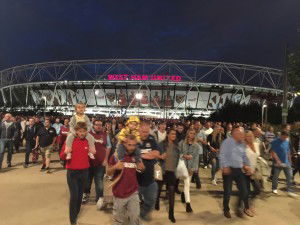 Leaving the stadium 
If you follow the planned route it takes around 20-25 minutes to get back to Stratford station as long as aren't the very last person to leave the stadium at the back of the queue. Many other fans found their own routes which were much quicker on Thursday. I am not going to publicise these or lots of people might start using them defeating the object of a quick exit but if you have a quick look at google maps there are a number of ways off the Stadium island for those prepared to go off piste.
If you have any other tips to share  from Thursday let us know and we will add sensible suggestions to this article.