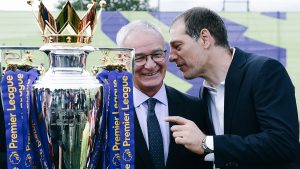 by Carl Sampson
When West Ham appointed Slaven Bilic to take the club forward, they were clearly looking to finish higher than 11th in the league which was last season's finishing position.
The move to the Olympic Stadium was  tough but in fairness few clubs make immediate successful transitions to new stadiums without a hiccup.
Already the betting firms are not rating West Ham's chances for the 2017/18 Premier League campaign. There are several big questions that need to be asked. Firstly, just where can West Ham expect to finish in the coming season?
Europa League at Best
Clearly West Ham are not a Champions League club and so the top four is out of the question. The problem comes from the expectations of the fans and the board. West Ham may be unable to match that short term ambition. The overrun of moving to the new stadium will still be a factor this coming season.
If West Ham have any sort of aspirations of competing for a top ten place then they must become accustomed to losing their top players. Very few clubs in Europe outside of the supposed "super clubs" can keep their star performers. If West Ham finish between 7th and 10th then they will have had a solid season.
Loan Signings will be Key
The loan signing of Joe Hart will be a big plus for Bilic. The reported imminent arrival of  Marko Arnautovic will potentially be even better and once Javier Hernandez's name is on the transfer papers that will be a huge coup.
An end of season relegation dog figh is no longer on the agenda and why should it be? A state of the art stadium, a solid manager and some good signings should see the Hammers well clear of any trouble come next April and May.
It is unlikely that Andy Carroll will have a season without injury. He's a paid up member of the same sick note club inhabited by such as Jack Wilshere and Vincent Kompany .
Slaven Bilic will need to remain active in the transfer window but the news that Hernandez has agreed terms and will be announced to have joined the club next week could seriously freeze out Carroll next season.
Running to Stand Still
The Premier League is one of the most unforgiving leagues in the world. Huge sums of money need to be spent and big signings need to be made just to remain competitive.
Any new players that come to the club will need time to gel. Hammers fans need to be patient this season and so do the board. It takes more than just a big stadium to gain success in the Premier League, ask Newcastle United fans!
West Ham will not be fighting for relegation but Bilic will be under increased pressure to improve on last season. and his ofdds of being sacked are probably far higher than the hammers being relegated, even with the impending signing of Chicharito.
Some of the comments that came from the owners last season indicated their obvious ambition. There is nothing wrong with ambition as long as it is mixed with a good dose of good old fashioned common sense. West Ham are a great club but there is massive work to be done to achieve regular top six status.
Fancy West Ham to finish inside the top 10? All Premier League odds can be found below:
https://www.sunbets.co.uk/sports/betting/Football.
Carl Sampson is a full time poker player, sports writer and football nut