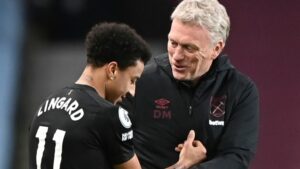 The will he won't he be back saga surrounding Jesse Lingard has been running since he returned to Manchester United.
And David Moyes has spoken for the first time about the situation whilst admitting that he can't discuss a return directly because the player belongs to another club.
But it's clear what he thinks of the guy and reading between the lines, perhaps, it can possibly be assumed that the boss would like to see him in claret and blue again.
Speaking to reporters he said: "I can't really talk about him because he's a Manchester United player and it's not for me to talk. But he was really good for us.
"Jesse knows what we all think of him here. My disappointment for Jesse would be I think he's such a talented football player and he's not playing. He played a big part in our second half of last season. But the one thing you'd have to give credit to the players here, they've moved on without Jesse.
People might have thought Jesse made a difference here. But the players have moved on and stepped to another level themselves. But I've got to say, Jesse was a big part of that."