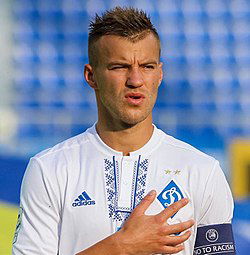 Andriy Yarmelenko has promised to turn his back on a difficult season at Borussia Dortmund and give everything to West Ham United.
In his first interview, he told www.whufc.com: "I am happy to join West Ham United. West Ham is a big club with great fans. I cannot promise them I am the second (Lionel) Messi, but I can promise one thing, which is that I will be giving them my all on the football pitch.
"I will give all my energy and do everything for the team to win games. I will give my all to help the team to win as many matches as possible and, with any luck, to win trophies too."
Having moved to Dortmund from Dynamo Kyiv in the summer of last season he added: "Personally, my year with Borussia Dortmund turned out to be quite tough.
"For the first six months, I think I looked OK. But then there was an injury in the second half of the season, and I couldn't add to my account."
He continued: "The Premier League is, not even one of the best, but the best league in the world. It is difficult to play in it, so it will be very interesting for me to see my abilities in England.
"Of course, for any footballer, it is better to play in big matches. There is a real chance to show yourself, and that is actually why I transferred to the Premier League. I will be trying to make our supporters as happy as possible.