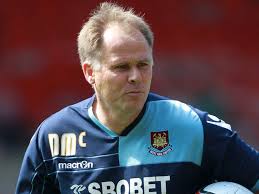 Speculation that Neil McDonald could be on his way to Blackpool has not gone down well with fans of the newly relegated Championship outfit.
With Sam Allardyce seemingly on his way out of Upton Park, the backroom team seems to be splintering with Teddy Sheringham set to be named as manager of Stevenage Town.
And there is a new buzz on the grapevince that Leyton Orient are keen to speak with Ian Hndon although as yet no permission has been given by the Irons,
However, on www,fansonline.net one Blackpool supporter made his feelings clear on the McDonald link saying: You know just by his face and the size of the big lummox he'd be useless.
He's been on easy street for 15 years, earning probably 20k a week, as Big SAMs assistant. He'd have no fire in his belly. You can tell he's been coasting by the size of him. "