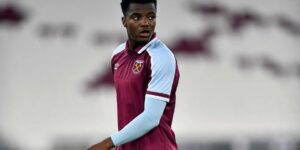 By Simon Leyland
Quite understandably the plaudits last night went to the goal scorers, but there was someone else who caught my eye, Levi Laing.
He came on as a sub for Kurt Zouma and showed a glimpse of the player he can definitely become. Unhurried, a good reader of the game and a couple of smart passes.
So who is he?
Levi Laing is a 19-year-old 6ft 2in centre-back born in London, England, who has also played as a right-back and as a defensive midfielder.
Prior to joining West Ham in January 2021, Laing had spells in the academies of Hampton and Richmond Borough until 2014 before spending two years at Brentford and moving to Arsenal for five years in 2016.
Since joining the Hammers' academy, Laing has been a regular for West Ham's under-18s, making 13 appearances for them ahead of becoming a regular for the under-21s.
I think we will see a lot more of him along of course with teenage striker Divin Mubama who looks a very serious prospect indeed.