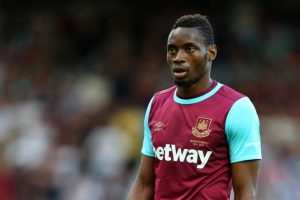 Pablo Zabaleta has become a paid up member of the Diafra Sakho fan club and is a believer in understanding players' situations.
The Argentine believes the striker can have a big impact on the Irons season saying: "He's a great player, but it is all about confidence.
"He's not been playing much in the Premier League aside from coming on for a few minutes, and his only starts have been in the Carabao Cup."
Speaking to the official site Zaba added: "This is what you expect from players like this who, even if they are not starting the games, they come on and give 100 per cent, even if it is only for ten minutes. He did that against Swansea, so I'm very pleased for him.
"Personally, I always try to understand player's situations. I'm a new player here and I don't know Diaf's situation from last season or three or two seasons ago or whenever but, when the transfer window closed, Diaf was a West Ham player and he has given everything because he is important for this club and is a great player.
"He has done a fantastic job for this club, so he needs to fight for a place, show the manager he is worthy of a place in the team and that's it.
"The best way to do it was like he did against Swansea, coming on, making runs, working hard and scoring goals. That is the only way to show the manager you are worth a place in the team and that healthy competition between everyone has to be like this.
"I understand that every player cannot play every week. This is the manager's job, thinking what is best for the team. As a player, I've been dropped many times and the only way I can show I am worthy of a place in the team is by performing and working hard – this is what it's all about."