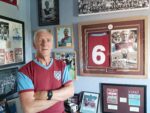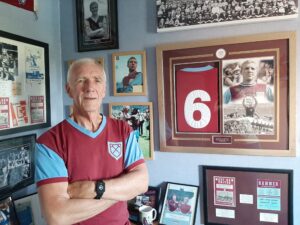 By CandH's top blogger Allen Cummings
It's tough at  the top – or so they say! But right now it looks to be even tougher at the bottom – I'm talking about the Premier League, of course. For the five teams battling to survive – of whom West Ham are sadly one, the going looks to be just about as tough as it gets.
Since Project Restart (how I hate that phrase) began less than two weeks ago, the bottom five clubs have played 13 games in all – but have so far failed to register a single win between them. Just three points have been collected along the way, with no one team showing any real sign of pulling clear of the others.
Good news for us in a way, as we approach the Chelsea game, our third tough fixture in a row. Points were always going to be at a premium during this opening spell, and there was a real danger of a gap developing before we got to what might be viewed as our more 'winnable' fixtures. Thankfully that hasn't happened.
The obvious thought must be that the survival target of around 35/36 points, could now be even lower. As it stands at the moment, we are still safe – just! But with Aston Villa and Bournemouth breathing down our neck, it's worth taking a look at what fixtures they have to face, with a view to what we might now need to do ourselves.
Next up for Villa are Liverpool (a) and Manchester United (h), with no reward from either being likely. Crystal Palace and Everton, home and away respectively, might reap a single point at best. Arsenal then visit Villa park, and a FA Cup semi final place might distract the Gunners enough to give Villa the chance of a possible 3 points.
Then it's the last game of the season at the London Stadium. Stop Villa winning and just five points maximum added to the 27 they already have will give Villa a final tally of 32 points.
Bournemouth entertain Newcastle next – and a single point could be on the cards. Manchester United (a) is unlikely to bring any reward, then Tottenham (h) is another tough ask for anything more than a point. Manchester City (a) will surely be a wasted journey, while Southampton have shown they are formidable on the road and wont be doing their south coast neighbours any favours – 1 point max I reckon. Finally it's off to Goodison where a zero haul could seal their fate – their current 27 points having grown to just 30.
Most people have written off Norwich now I think – but Watford are still very much in the mire. Their next six games are Chelsea (a), Norwich (h) Newcastle (h) West Ham (a) Manchester City (a) and finally Arsenal (h). With three points from Norwich and a single point off Newcastle (hopefully none from us of course) their final tally could be just 32.
This relegation battle is still very much in our own hands, which is why I'm convinced the despondency shown by some West Ham fans is far too premature at the moment.