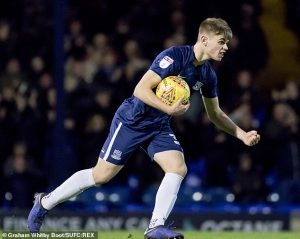 West Ham is preparing to table a compensation bid for Southend United forward Charlie Kelman claims the Footballer Insider
The teenager is regarded as one of the best promising strikers in English football after he scored  61 goals at youth level in the 2017/18 season. Kelman made the step up to U23 level this season scoring the winning goal in Southend's 4-3 FA Youth Cup victory against Leyton Orient last year.
Kelman is currently a scholar at Southend and the League One club would love to tie him down to a professional deal now that the forward has turned 17. Any club hoping to snap up Kelman from under Southend's nose would have to pay a compensation fee which could be set by tribunal.
Kelman found fame at the weekend when he scored this goal from the halfway line on his senior debut.
Kelman was born in Essex but played last year for the United States Under 18s. After being called up by US Soccer, Kelman said 'my dad is an American citizen and I lived out there for six years so that's how I qualify.'