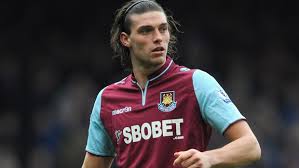 Here's my second blog for www.London24.com which appeared on that site earlier today.
By Hugh Southon
It must have been a very long time since a player who has seen so little action during a season has been talked up by virtually everybody as a World Cup certainty.
But that's the case concerning Andy Caroll who has played in a mere five Premier League  games so far this term yet is seen by most as a near cert for Brazil.
Boss Sam Allardyce has been declaring he has a big World cup chance and  co chairman David Gold believes a storming end of the season will give him every chance of making it to the big one!
England boss Roy Hodgson is on the record as being a big admirer and the votes of confidence from Sam and Gold perhaps tell us a lot more than initially appears to be the case.
Managers and chairmen don't set their own players up for a fall. Thus I have to conclude that the England boss is regularly in touch with the club checking on the player – who'd want to be Rickie Lambert eh?
Now I have an admission to make here! My only serious interest in football concerns West Ham United . After all we all know Hodgson would need THREE Irons to have a chance of winning  the World Cup!
Fact remains, however, that for  AC to make that 'plane he's going to have to perform like a hero from now until the end of the season and that's fantastic news for the club.
There's enough incentive for him to do so as we aim for total safety but his World Cup dream should give him even more edge over the next few weeks.
And with games coming up against the hated Manchester United, Liverpool, Arsenal and Manchester City, he has every chance of showing he can perform against some of the world's very best.
A fully-firing AC – which I believe we shall see over the last nine games – is the ultimate guarantee against relegation although frankly I think that's a given.
However, there's one more thing to say about all of this! The manager and the club have taken plenty of stick at times for risking so much on one player who has had his share of problems.
But I reckon all this World Cup talk totally vindicates the decision to splash £16 million on him. This is a guy who has made just 31 Premier League appearances for seven goals  over two seasons.
That he can command the column inches he does ahead of a World Cup in Brazil tells us all we need to know about him.
I hope he goes to the World Cup…I believe he will and I reckon he may make a difference.
But to do so he's going to have to be massive for the Irons and – sorry to be narrow-minded about it – but that's really all that matters as far as I'm concerned.