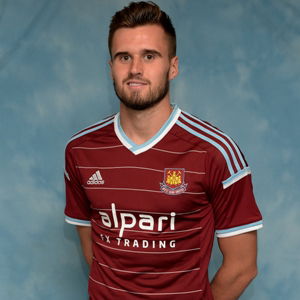 Sam Allardyce reckons Carl Jenkinson could be the next West Ham star called up by Roy Hodgson following Stewart Downing's return to the England fold.
Glen Johnson has been dropped with the uncapped Nathaniel Clyne and Calum Chambers included games against Slovenia and Scotland.
Allardyce said in his press conference:  "There seems to be a particular problem at right-back at the minute and I think he's got the potential, based on my short time with him, of getting a chance.
"He's been at Charlton, then Arsenal and he's now playing regularly for us. It just seems that Kyle Walker has been out for a long time and Glen Johnson at Liverpool seems to get the odd injury here and there.
"Right back has become a bit of a challenge for Roy – who are they? Where are they? And how good are they?"
Allardyce added that Aston Villa, boss paul Lambert must be wondering what he's done wrong after seeing his team lose six consecutive matches to slide to one point above the drop zone.
He said: "I think if he had as much money to spend as Martin O'Neill he would be very very happy and you would expect he wouldn't be in this position.
"There was a change of financial policy at Aston Villa and when he eventually took over it was about reduction of wages rather than increase of wages.
"When you've had to manage that period and that level it would be the biggest learning experience as a manager that he's every experienced.
"It's a very difficult period to manage in and then continue to focus and get results and keep the club around the expectations that Villa fans expec