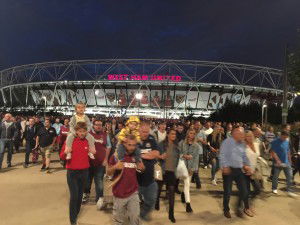 By CandH associate editor Sean Whetstone
The waiting was finally over as 53,914 spectators who smashed the West Ham home attendance record at our new home against a relativity unknown Slovenian team .
Walking up to the London Stadium across the bridge felt like Wembley Wayand the game had a Cup final kind of feel about it. Numerous food trailers outside the stadium perimeter added to that Wembley outing feel.
There was an artificial beach with funfair on one side and Swan peddle boats on the canal for hire on the other. Not the kind of amusements you would have found in Green Street.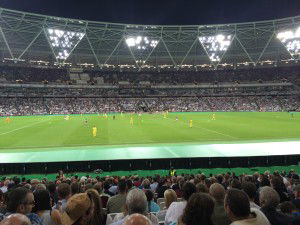 There is also a great park to explore and relax in the sun before kick off.
As we were there early we went to club store to a busy shop with all 40 tills in operation for the first time. Gone are the days of waiting ages to be served. We got served within 60 seconds of attaching ourselves to a small queue.
Next stop was the ticket office, again a short sub minute queue and we were directed to one of 25 ticket windows within a minute. I managed to upgrade a kids ticket to an adult ticket without fuss paying quickly by a debit card.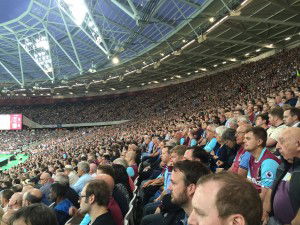 At 5.45pm on the dot the doors opened for the stadium with a good selection of food reasonably priced compared to other venues like Wembley available. We opted for the street food counter and went for the pulled turkey roll which was good quality.
Taking to to our seats in the West Stand block 113 row 19 was the big wow moment with the sight lines were much better than anyone expected and a great view of the action and the pitch.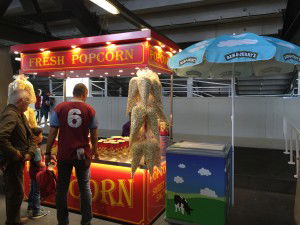 The acoustics of the place are pretty great and atmosphere will grow game by game as season ticket holders get used to our new surroundings.
Just before kick off we visited the Ben and Jerry's ice cream stall in the concourse to get a tub of ice cream. Many others were eating pop corn from the fresh pop corn stall.
Obviously it helped massively that we won the game 3-0 but the match seemed special under the iconic triangular floodlights and illuminated West Ham United sign.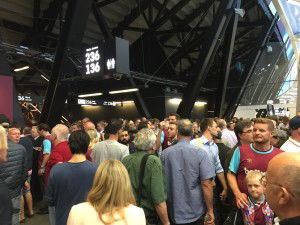 Leaving the game was also far better than I imagined as I departed bang on the 90 minute before added time had been played. Although it was busy and slow moving I managed to get from my seat to a Stratford station Jubilee line train in 20 minutes. We weren't stopped once by those men with stop and go signs.
Overall my first experience at our new home was amazing and I still have a smile on my face. I can't wait until Sunday against Juventus and then again the first premier League game against Bournemouth when we smash the home attendance record again 60,000.
Well done West Ham, Well done E20 Stadium LLP Well done London Stadium 185!
A great debut which will only get better as time goes on.