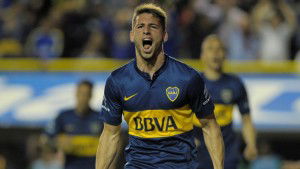 Argentine striker Jonathan Calleri is on the verge of joining West Ham on loan claims Brazilian sports website UOL Esporte. The report says Calleri received proposals from Inter Milan in Italy and Sevilla in Spain, but he has decided a move to England to join West Ham is in his best interests. The article says West Ham has an agreement already in place with Uruguay club Deportivo Maldonado. The Brazilian site says Calleri will sign agreement with West Ham in the coming days.
People close to the striker say that at first he expressed preference for transfer to Sevilla but the financial  package from West Ham was much better. He has been on loan to Brazilian club São Paulo since January. On Friday the club's own insider revealed "I have been told that the Hammers have agreed a deal with two clubs, but it is proving harder than first thought to persuade the calibre of players who want Champions League football to join them."
Those two clubs are thought to be AC Milan and Deportivo Maldonado. We all know the latest with Carlos Bacca from Ac Milan and his reluctant to give us an answer, hopefully the Jonthan Calleri deal from  Deportivo Maldonado will be much more straight forward to complete.