Marko Arnautovic has responded to the rumours that Jose Mourinho is interested in bringing him to Manchester United.
Arnautovic told Austrian newspaper Kurier."It is a great honour for our entire team that a coach like Mourinho is watching us,'
Meanwhile, Mourinho told reporters that he attended the match as he happened to be on holiday in the Tyrol region of Austria.
Mourinho previously managed the Austrina, having spent a season with the winger at Inter Milan.  The 29-year-old made just three appearances under Mourinho and had regular run-ins with the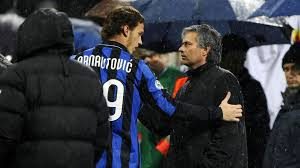 Portuguese boss. Arnautovic was just 20 during his time in Serie A and Mourinho once referred to the Austrian as a 'child' for his immaturity.
Mario Balotelli is his best friend,' said Mourinho in 2009. 'Coincidentally they have the same problems. Marko is a great guy, but he has the mentality of a child.'
Other reports today suggest Mourinho travelled to Innsbruck to keep an eye on Russian duo Aleksandr Golovin and Fyodor Smolov and not Arnautovic.
I am not sure anyone is any the wiser after those comments but this story will probably run and run.