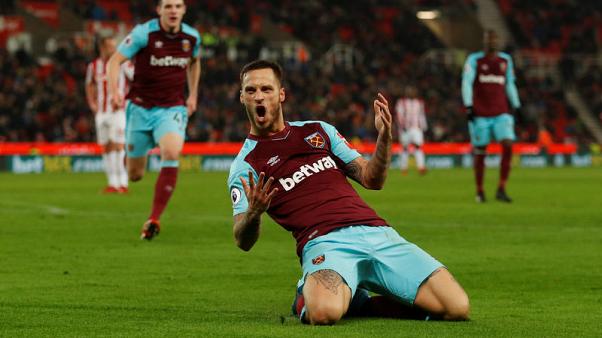 West Ham are tonight understood to have received a £35 million bid for Marko Arnautovic today (Wed).
The club have yet to confirm that the offer has been made but have already made it clear to Claret and Hugh that the club's talismatic striker will not be leaving the club in this window anyway.
And they have added that £35 million is way below any figure they would accept for one of the world's top strikers.
The news was tweeted by TalkSport's Head of Sport Lee Clayton who said: 'West Ham have received a bid in excess of £35 million for Marko Arnautovic. The bid is from a Chinese club. They want to reject it. The wages will be amazing. Hard to keep him. More to follow on @talkSPORTDrive.
Whilst the wage may be amazing it's fair to believe that Arnie will get very first hand information on the state of the Chinese game from Manuel Pellegrini who left the country to manage the Irons.
And it would be surprising in some respects were he to want to swap the Premier League for the Chinese at the age of 29 whilst at the peak of his Premier League and international career.
The Hammers scoffed at the £35 million figure whilst talking to CandH by email with our best source telling us: "We won't sell him in this window.
A bid like that would be laughed at. We paid more for Anderson, who was a gamble  which thankfully has paid off."