By Allen Cummings
It's Valentines Days on Wednesday.  So maybe it's fitting then that there's a whole lot of 'true love' circulating around West Ham and the London Stadium right now for the man we have all taken to our 'hearts' in recent weeks.
Marko Arnautovic is the undeniable pin-up boy amongst Hammers fans, and players alike, at the moment and it's nothing to do with his new bleached blonde hairstyle.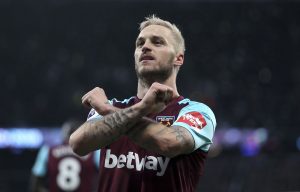 It was noticeable as he made his almost gladiatorial exit from the arena after 84 minutes on Saturday, just how many of his team-mates were queuing up to give Arnie a very public man-hug for his afternoon's work with 50,000 or so ecstatic and equally besotted fans wishing they were in a position to join the hug-in, too!
In answer to an interviewer's question after the game the extrovert Austrian international said he thinks he's a nice guy and that he just wants to be loved by the West Ham fans. Job done already I'd say Arnie.
How very different to six months ago. In the wake of his £25m record transfer, Arnautovic got himself sent off at Southampton, and following some, at best, indifferent performances on his return, found himself in the firing line as public enemy No 1. At that time love definitely wasn't in the air.
The change in fortune started following the arrival of David Moyes. Suddenly he was reborn. His confidence grew and as a result his love affair with the West Ham faithful has blossomed. The definition of a 'talisman' is something producing magical or miraculous effects.
Well Arnie has certainly done that, with seven goals and  assists in his last 11 games. And it's a fact that the team haven't won when he has been out of the side since September.
Moyes is clearly delighted with the way Arnie is playing saying:  "He's got power, pace and quality on the ball," but isn't afraid to add: "We're telling him he's doing well. But he's still got a bit to go." On Saturday 'Ginge' described him as "quick but quirky". Who'd disagree?
We've had public love affairs with players before. Our last one ended in tears when a certain Monsieur Payet packed his bags and left. Only time will tell if our current 'love' will endure. But at the moment all the signs are certainly looking heart-shaped!