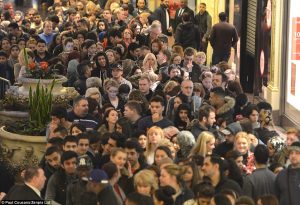 Many Hammers supporters are upset about the thought of never playing a Boxing day fixture at home again. West Ham will play their Christmas fixture away for the fourth year running this December instead making a 300 mile round trip to Bournemouth this year.
Personally, I can't imagine anything worst than battling with 200,000 shoppers on the trains, tubes, car parks and walkways around Stratford. I am glad we are unlikely to be forced into that nightmare scenario and it is a small price to pay for moving to the former Olympic Stadium in my opinion.
I understand for many that it is a family tradition going back many generations to attend a Boxing day game but we have moved on and the transport logistics just don't work with our new Stratford neighbours.
From a personal point view, I often missed Boxing day games even when at home at the Boleyn Ground preferring to spend time with my family but I know many will miss the option of Boxing day games at home.