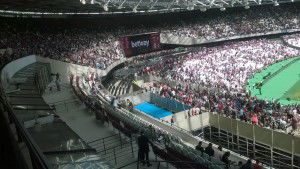 West Ham fans have been asking West Ham chairman David Gold whether the club would shove away fans up in the back of the upper tier of the London Stadium like Newcastle and Sunderland does.
One West Ham fan called Westley asked "Seats behind the goals are great view & close. Can we not put all the away fans in the seats in the upper tier right at the back?"
Gold replied "No. It's against PL (Premier League) rules. dg"
When these new rules are ratified, every Premier League club will be required to have a pitch-side away section under plans discussed by the 20 top-flight teams.
The new rules currently being drawn would force each club to house visiting fans as close as possible to the action as part of ongoing efforts to appease travelling supporters and boost the atmosphere generated during games. The regulatory change is likely to come into effect in time for the 2017-18 season.
Exactly how many clubs will be required to make changes remains to be seen, although Manchester United may be granted an exemption due to a disabled section being immediately in front of Old Trafford's away end. Most other teams already house at least some visiting supporters pitch-side during most matches, the obvious exception being Sunderland, who controversially relocated away fans from that position four years ago. The away section at Newcastle United is also at the furthest point from the pitch but they were relegated last season and would not be bound by any new rule until they returned to the top flight.