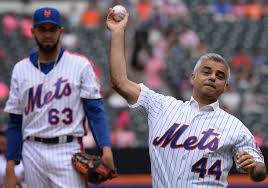 The London Stadium is due to host Major League Baseball from next year.
Regular-season fixtures in June 2019 and likely to involve the New York Yankees and Boston Red Sox are set to start in June – the first time the game has ever been played in Europe.
Sadiq Khan – a fan of the game – and league are set to give details at a press conference on Tuesday where details seem likely to be confirmed with MLB commissioner Rob Manfred in attendance in London.
If the matches take place, they would be the first in MLB to be hosted in Europe.
The stadium has the edge on other stadiums in London after originally being built for the London 2012 Olympics, featuring a 400-metre track.
London mayor Sadiq Khan and league chiefs have called a press conference for Tuesday, where details of the first regular-season MLB matches held in Europe are likely to be confirmed.
MLB commissioner Rob Manfred will also attend the London press conference.
However, at this stage there has been no official confirmation although they are expected to take place on June 29 and 30 next year.
Yankees manager Aaron Boone said: "I've never been to London, so I'm looking forward to that.
"It can grow our game, obviously, in Europe and hopefully getting two big teams out there will be a great thing for the sport."