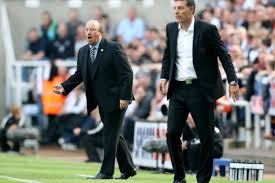 After fever pitch speculation that Rafa Benitez could take over as West Ham manager as early as October, media reports produced a U turn suggesting he has committed himself to Newcastle until the end of the season.
Last week the Telegraph claimed Benitez has been left disillusioned by the blatant lack of ambition this summer and his long-term future on Tyneside is in serious doubt. They said that should West Ham sack Slaven Bilic in the next few weeks, it is likely Benitez will express some interest in replacing him.
The Newcastle Chronicle said yesterday Benitez is back at work after a few days off and '100% committed' to the task at hand. Benitez has reportedly privately to friends that he will stick out at Newcastle until at least the end of the season.
The Spaniard feels a debt of loyalty to a group of supporters who have put him on a pedestal during his time on Tyneside. A compensation figure of £5million-plus will be payable by either side in the event of a split.