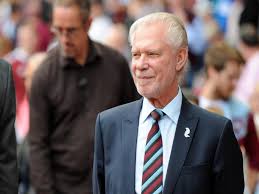 Twitter's keyboard warriors continue to blast co chairman David Gold and the board for not buying a striker in the transfer window.
The ongoing attacks that we needed a striker and right back continue to be levelled directly at Gold despite the fact that the only name mentioned as a possible signing was Scott Hogan who simply wasn't fancied by the manager.
And clearly coming to the edge of his patience Gold responded to one fan who clearly had no idea which striker should be signed by snapping:  "Do you mean we should have out-bid Crystal Palace for Benteke? dg"
Crystal Palace – now in deep trouble – paid around £30 million for the player supporting the view that strikers are not necessarily the answer to a team's ills.
Gold's tweet was immediately followed by questions as to why Benteke was mentioned despite the club having held an interest in the player last summer.
And thus far Bilic's refusal to get involved in a Hogan switch appears to have been the right call with the former 14 goal striker failing to get on the score sheet in Championship  defeats away at  Nottingham Forest – when he was yellow carded – and Ipswich at home yesterday.