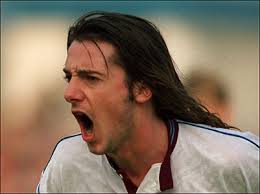 Former Hammers midfield maestro Ian Bishop flew into Manchester from the US for today's big match between the loves of his life and laughed: "A draw is gonna do me today."
And ClaretandHugh – talking to one of its favourite all time Irons – can reveal that the wonderfully skilled former midfield ace is considering a permanent move back to the country revealing: "I'm missing the game so much we're considering coming home ."
Bish has never been able to separate the two great loves of his life- Hammers and City – declaring: "They are in me in equal parts. I just hope it's a draw – that'll do for me .
"It's bigger for City than it is the Hammers but I don't want to see the Irons  beaten but I need City to win the Title so it's a no brainer – a draw will do very nicely thanks.
He added: "I really feel at the moment I want to come home. I'm missing the football like crazy.
"I'm an odd story: "I was supporting at Arsenal in Liverpool when I was six joined Everton and am now split between City and the Hammers.
"I'm really not sure if I can stand another winter away from the British game so we may well be back – if so ClaretandHugh will know first."
We will be doing our best to catch up with Bish for his view on the game later this afternoon