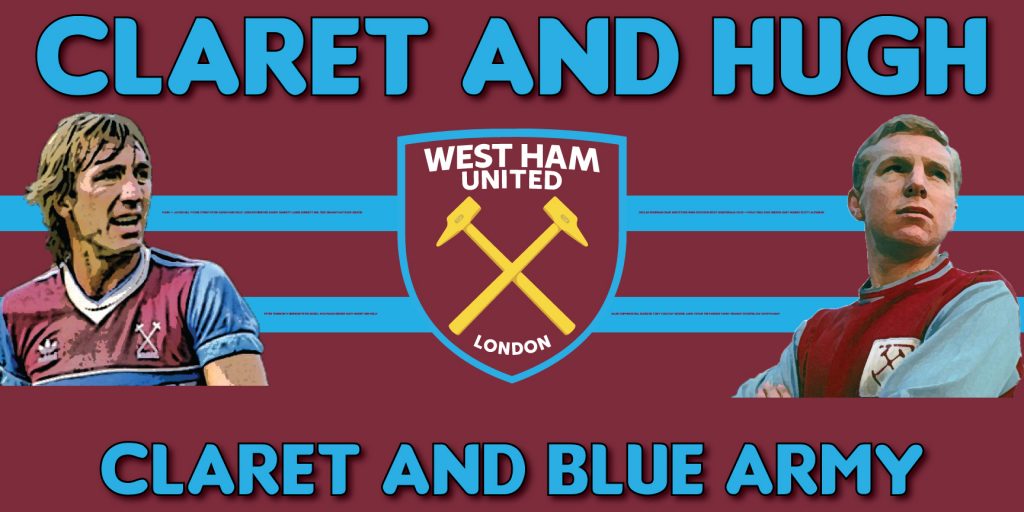 The huge ClaretandHugh flag featuring the club's two greatest icons – Mooro and Bonzo has arrived at the London Stadium and will be unveiled at the match against Swansea – bringing we hope a much required change of fortune.
Here we are giving you a sneak preview of the artwork  but on Saturday we will bring images of the flag in all its glory from inside the stadium.
An the club's greatest living legend Bonzo admitted when we contacted him that he "was entirely humbled" to take a place of honour alongside his own greatest hero – the incredible Mooro
When we broke the news he said: "This is one of the lovliest  things that has ever happened to me. I am so thrilled – thank you to ClaretandHugh and every single fan. I am entirely humbled by this – thank you!
"I absolutely love those fans  to pieces and have always had a wonderful rapport with them – they have been fantastic to me throughout my career and beyond."
It was entirely our pleasure Bill and it's us who should be us thanking you for everything you have given this great club of ours.
THANK YOU AND COYI