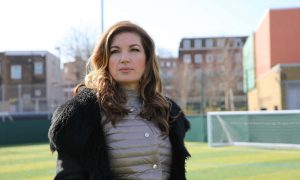 Karren Brady has attempted to give a broader perspective to her claim that the Premier League season should be null and voided.
The Hammers vice chair ran into a storm of criticism after using her controversial column in The Sun to make the proposal which was very much a personal opnion.
Her suggestion would mean that Liverpool would be denied the Premier League title and there would be no relegation or promotion from the PL or Championship.
Events since her column appeared have accelerated to the point where that looks very much a probability rather than a possible outcome.
And proposed Government measures to ask over 70s to go into strict isolation wuld mean the club's co-chairmen David Sullivan, 71, and David Gold, 83, would be among them.
It looks a certainty given the Government planning on advice from top medical professionals that the season is indeed over although Uefa will make the final decision at a meeting this week.
Brady meanwhile wrote on Twitter: "Everyone agrees that LFC deserve to win the title. PL & EFL are doing all we can to ensure the season is finished.
"Including suspending games, isolating players, and if required playing games behind closed doors and into the summer months.
"My point was safety of fans, players, staff come 1st & if the remaining games just cannot be played the only fair & reasonable thing is to declare season null and void.
"Who knows who would have gone down or come up if the PL/EFL games have not actually been played in full?"