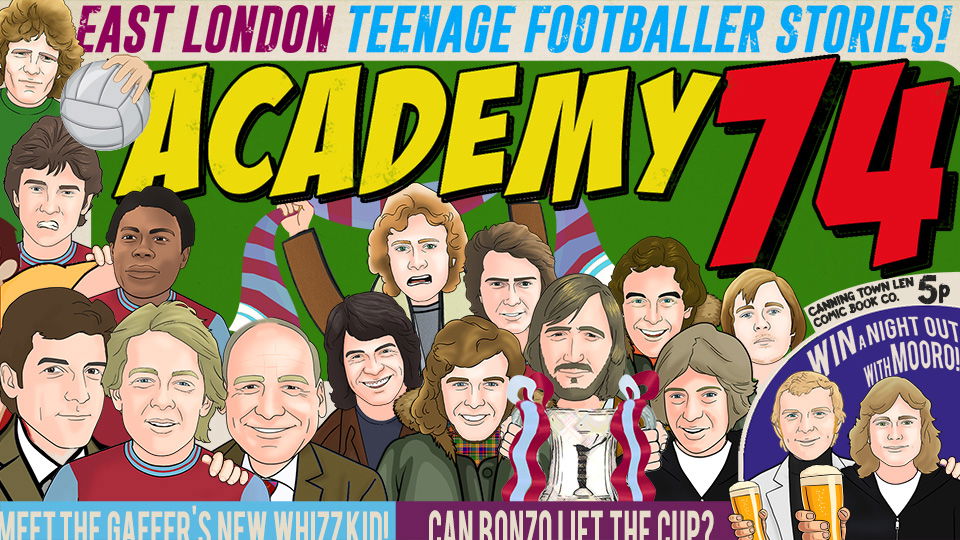 West Ham themed artist and film maker Canning Town Len is due to release another West Ham United film this Christmas that is free to watch on Prime Video.
Academy '74 is the story of possibly the most successful crop of young talent ever to grace the club, which included three FA Cup winners and a future West Ham United manager. This team also featured a glut of young local talent, which was the first West Ham Youth Team derived from the coaching of Tony Carr, in the guise of Poplar Boys.
"This was the start of it – a group that really developed the academy of which we perhaps know it today" says Tony Carr in the film's official trailer.
The 1974/75 West Ham United Youth Team became Junior Southern Floodlit champions, beating the mighty Chelsea Youth, in the final – a Chelsea youth side that was profiting from East London talent via the famous Senrab club.
They also reached the final of the FA Youth Cup beating Liverpool and again Chelsea, only falling to a once-in-a-lifetime Ipswich Town side that eventually became the core of the UEFA Cup winning side a few years later.
"Making a sequel (or prequel) to Everybody's Second Team was always going to be difficult, as happy endings with our club are few and far between" said the film maker. "There was an unexpected amount of obstacles to cross outside of the studio also"
"It was actually the brainchild of West Ham legend Alvin Martin. Alan Curbishley saved the day though, as he found a sponsor that financed the project, so everyone could see the film for free. This gentleman was also involved in producing Matt Lorenzo's Bo66y film"
"It may have been the shortest pitch in history. All I asked for was a chance to make a film featuring my own people, in our own part of the world, in our own dialect."
"He instantly replied; 'I'll give you all the money!' – and the project was back on track after nearly a year on the shelf'
The players reunited in Autumn 2021 and regaled a different time in football, and talk of the influence of Bobby Moore, John Lyall and Ron Greenwood. "It probably is the most 'West Ham' of films" said a fan that got a glimpse of the final cut.
The film is due for Amazon Prime Video (included with Prime) release on December 23, but members of canningtownlen.com can watch first and free – and it's free to sign up too. So it's genuinely a rare 'something for nothing'.
You can see the official trailer at https://www.canningtownlen.com/post/academy-74-official-trailer