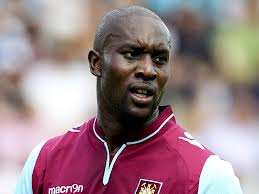 Carlton Cole doesn't doubt the Irons are fully capable of stuffing Man Utd this evening declaring: "I's a massive fixture and of course we can beat them."
And he reminds the arriving falling champs: "We had a great win against them in the League Cup [two years ago], which I think ended 4-0 and I notched two goals!
"The big games are what you live for. All the players live for that and the manager wants to get one over them and get an upset."
Cole added:  "Obviously we need to get the points under out belts now at home and, with the games we have coming up away from home, any sort of results there would be good for us.
"We can start steering our way to safety and secure a top-ten finish."