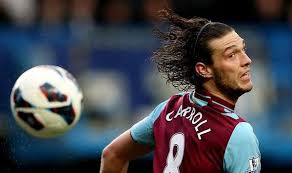 It really is time for West Ham United to clear up the misunderstandings which threaten to send the Andy Carroll situation hurtling out of control.
The club released a statement on its website that the striker had developed a sore ankle in training and will play no part in the two Kiwi tour games.
Yet earlier in the day during a meet and greet with the chairman of an Aussie fan group, co chairman David Gold claimed the striker would play for a half in tomorrow's game.
ClaretandHugh reported the contents of that conversation earlier today and has  since received categorical assurances from  Brisbane Hammers chairman Dave Rhodes that the contents of the conversation had been correctly reported.
Now it seems we have an ankle injury as the cause of a new problem and the fans are understandably becoming thoroughly frustrated and cynical about the situation.
For the club to report the record signing has returned from the summer break short on fitness before picking up an injury, is worrying in itself.
A usually "on the money" Twitter source first reported last week that the player had come back behind the other players in fitness levels.
And the  club have since confirmed that to be the case.
So on behalf of all the  fans, Claretandhugh poses one simple question to the club:  "Is he injured, unfit or both because it's very hard keeping up with the world of Andy Carroll.
His situation – when linked to stories about a possible move to Newcastle United – is once again causing too much discussion.
Perhaps we can be told the nature of the injury, how long it will take to be resolved and whether he will get a pre-season at all.