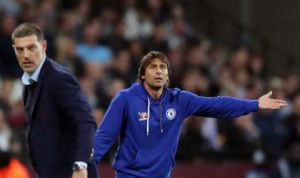 Antonio Conte has reported a minor injury for Eden Hazard in the build-up to the West Ham game but he indicated the player will be fit for action on Monday.
At his pre-match media conference on Friday afternoon, Conte was asked if there were any fresh injuries in his squad.
'Nothing important,' he answered, 'apart from a little problem for Eden Hazard. He got kicked when we began training again on Wednesday but I think it is nothing serious.
'The rest of the team is in good fitness and we are working very well.'