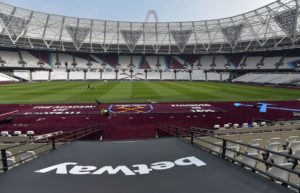 Today is the unveiling of the Claret and Blue pitch surround and I am told by those who have seen it in person that it looks very good.
Earlier this week I criticised the club for over-hyping the unveiling of the carpet with pyrotechnics and a crowd surfing banner.
Today is also Claret and Blue day which is more about shifting this season's leftover stock from the club store than it is a celebration of a carpet.
The Hammers have contributed significantly to the cost of this track cover after the previous green one was not deemed fit for purpose by a legal expert determination last year.
Originally when the club loved to the former Olympic Stadium they wanted a green surround to hide the running track as they thought it would make the gaps between the stands and pitch appear much smaller than they actually were. Later Slaven Bilic later argued in his London Standard column that it was a problem for players perception of the playing surface.
Apart from the visual impact of the extra Claret surround today might show whether the gaps do appear larger with a contrasting colour and whether it helps the players define the size of the pitch better.  I will reserve judgement until I see it for myself this afternoon.