It seems that Sunderland's Jack Colback is closing in on a move from Sunderland to Upton Park.
As a result we turned to loyal Mackem and ClaretandHugh 'tekkie' DAVE BLAKELOCK to mark our cards on what we will be getting for the reported £50,000 a week the club looks likely to pay him in wages.
Dave is a regular at the Stadium of Light. Here's his SPECIAL REPORT here!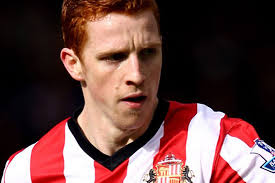 Jack Colback splits opinion among Sunderland fans!
Some love him while while others won't be too unhappy to see him moving on with the Hammers favourites to get him at a reported wage of around £50k a week !
Bearing in mind his nickname in some quarters of the Stadium of Light is 'Passback', he's obviously not going to be a serious attacking impetus at Upton Park should that be where he lands up.
No-one can doubt or question his defensive abilities but it does seem that the Hammers are digging up a lot of 'wedge' for a player whose game whilst effective seems a little limited.
Colback's Mackem fans, and the town at large, will be seriously unhappy that a guy who has been weaned through the club's Academy since he was 10 years old, is leaving without a penny coming back to the club in a transfer fee.
That's the result of a litany of bad management and it is very reasonable that the Black Cats loyal fans feel cheesed off.
From the Hammers viewpoint, Colback will bring some decent midfield defensive qualities and ability to play across a range of positions.
He's a very good  tackler, blocker and breaks up attacks as well as any player in the business. Offensively, however, he's managed just four goals in 135 appearances and provided a mere seven assists.
He may have been a Newcastle fan since childhood but his commitment to the Mackems can't be questioned.
And he will forever be remembered for netting one of his goals against Newcastle at St James's in February, which helped the Black Cats to a second 3-0 derby victory of the season.
His 'shush' finger over his mouth gesture to the Geordie fans was made him a massive favourite among Sunderland loyalists
He will also be remembered for rolling up his red and white sleeves to regularly take the position of left back during the 2012-2013 campaign as the depleted squad struggled with on-loan Danny Rose's injuries.
And he was  ready to play right back in the Tyne-Wear derby at St James's that season –where the team was again victorious to the tune of three goals to nil!
In both positions he proved he was able to defend and Paolo Di Canio even played him at right back. He was returned to his natural holding central midfield role with the arrival of Gus Poyet in October.
Colback –who spent two seasons on loan to Ipswich during his senior career at the Stadium of Light – could settle in well under the  Sam Allardyce's game plan if the deal goes through.
Should it happen – as a diehard Mackem – I would want to thank him for his great loyalty to the club and wish him well wherever he lands up.
However, it really does seem an awful lot of money to be paying in wages to a player who is really not much more than a steady and somewhat unspectacular player.
Maybe too much by some little distance.