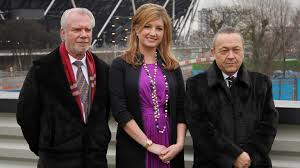 A social media poll of nearly 6,000 conducted on twitter by @WestHamTransfer shows 85% of those who took part want the current board out. Of the 5,952 who voted just 15% wanted the board to remain.
In March this year David Gold said "If 86% of West Ham fans voted for me to go I would go I don't want to be where I'm not wanted. dg"
Feelings are running very high at the moment with a meltdown on social media and constant unfair and personal abuse aimed at the owners and manager.
One crowd fund campaign aims to create large anti board banners and stickers while another supporter led campaign wants fans to boycott club merchandise to hit them where it hurts.
One social media report on Facebook last week claimed they witnessed Slaven Bilic and his partner being verbally abused in a restaurant by West Ham supporters.