By CandH's top blogger Allen Cummings
Judging by the comments I've seen on this forum, and elsewhere, the Issa Diop episode has left a nasty taste in the mouths of many West Ham fans.
His proposed transfer to Fulham has been rumbling along for a while now – but yesterday the saga took a mysterious turn when we discovered Diop wasn't included in what was clearly a depleted matchday squad.
That in itself raised a few eyebrows and some baffled head-scratching as to the reason why. Then later we learned via David Moyes the reason young Ben Johnson had been forced into emergency centre back duty was because Diop had claimed he was not in the right frame of mind to play.
That's a bit like you turning up for work and telling the boss you don't really fancy it today – so you'll just sit back and watch your mates cover for you.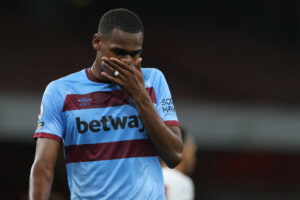 I can understand players wanting to play football, it's what they do. But they are paid handsomely compared to most of the fans on the terraces – whether they play or not – and when they're not playing they still have a duty to their employer.
Diop obviously saw an opportunity to move on when Fulham showed a keen interest in him – and possibly if Nayef Aguerd hadn't been injured pre-season he would already be wearing a Fulham shirt by now.
But Moyes' first duty is to West Ham, and with Angelo Ogbonna obviously not quite ready to return yet and Craig  Dawson troubled by a niggly thigh muscle, Moyes put a block on Diop leaving and further weakening our depleted defence – for the time being at least. Surely that's what we'd expect of our manager.
The question is was it Diop's own decision to do what he did? Has he just been a silly boy or was he maybe be 'advised' – badly in my opinion – that direct action was the way to force the issue?
We will probably never know the truth of that one. Now it appears Moyes has sanctioned the move, understandably because there is no advantage in holding onto a player who doesn't want to play creating the risk of introducing disharmony into the dressing room.
There is, as always, speculation around the fee involved – have we suffered another hit as some are claiming – or will the eventual difference in what we paid to what we'll recoup not that much? I've seen a variety of figures quoted – so it's probably best not to comment on that.
One point worth mentioning though is if I were a Fulham supporter I'm not sure I'd be comfortable with a player who has effectively downed tools once – for fear they might do it again. That might just be me though.
Sunday was certainly a day of contrasts at the London Stadium. On the one hand we had Maxwel Cornet's obvious delight to be joining us – while unfolding behind the scenes we had the story of Issa Diop desperation to get away. Never a dull moment in the world of West Ham United.