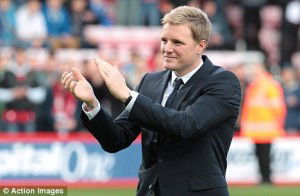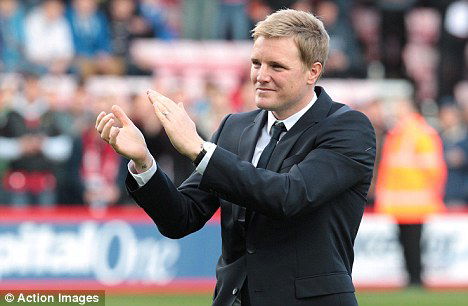 In the volatile betting market for next West Ham Manager, Bournemouth manager Eddie Howe was made a surprise second favourite by bookmaker SkyBet last night at odds at 5/1. He is the forth second favourite within the last week as the bookies react to every rumour and significant bet placed for the next gaffer. However, not all bookmakers see Howe as a credible replacement for Allardyce and PaddyPower are still offering  odds of 16/1 and list him as seventh favourite.
When Howe's name was linked in March our regular West Ham insider told us the board admire the manager but he lacks Premier League experience so would be seen as a gamble. He told us.
"Somewhere down the line it's a yes but the issue remains the same. we can't have a rookie boss. He's a great boss but he would likely stay where he is anyway. We really do need experience."
The 37-year-old has taken Bournemouth from the bottom four of the Football League in 2008 to the promised land of the Premier League. Forward-thinking Howe has shown himself able to assert his authority and impressed his staff and players with his training methods. His contract at the club runs until the summer of 2018 and Howe has always had the full backing of owner Maxim Demin.