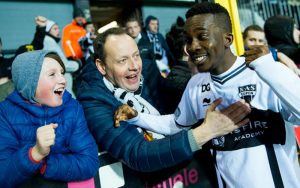 West Ham desperately needs a striker for this coming season and not one in one or two season's time.
There appears to be an uproar among fans that West Ham let Everton get one over of them with the imminent
the signing of Nigerian kid Henry Onyekuru who was often linked in the media with a move to West Ham.  Some blame the board for letting Onyekuru get away.
Despite what some may say he was never a top target for the Hammers and was often described to us as just one of many strikers that Irons held some interest in.
To our knowledge, there was no formal bid from West Ham just some initial enquiries.
Despite reports last week he was granted a UK work permit, this appears to have been nothing more than a standard UK visitors visa to meet with Everton and undergo a medical.
He is unlikely to be granted a work permit in the short term which is why Everton are loaning him out to Anderlecht to remain in Belgium and increase his international appearances.
Everton see him as a potential player for the future and are prepared to take a gamble to play the long game.
In truth, West Ham weren't snubbed or outbid they decided to pass on a player they didn't think could obtain a work permit and were dubious whether he could make the jump up to the Premier League.