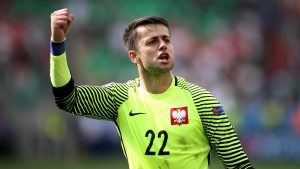 Lukasz Fabianski will take a short break after his bitter World Cup disappointment before linking up with the Irons squad ahead of an important season under new boss Manuel Pellegrini.
The Hammers new keeper was bitterly disappointed with Poland's early exit from the World Cup of course but made his priority absolutely clear after the Russian departure.
The former Swansea City keeper is ready to start a new phase in his career and told the media: "First, I'm going back to Wales.
"I need to pack there because as you know from the new season, I will be a West Ham goalie. I am happy to change club and start a new chapter."
On the World Cup failure he added: "Of course, our final game was important as this is the World Cup. We wanted to win and we are very happy that we succeeded.
However, in the wider perspective, however, we cannot be satisfied. What happened on Thursday is a small plus against many negatives."